While researching Piñatex the other day, we came across WEALLSHAREROOTS, a South-African design brand with a social mission, that has launched a beautiful line of vegan clutches. The IPANAPULA vegan collection combines ethnic design with innovative materials to create chic vegan handbags with a stylish yet earthy look. So if you're in the market for a unique clutch, this one might just be right for you!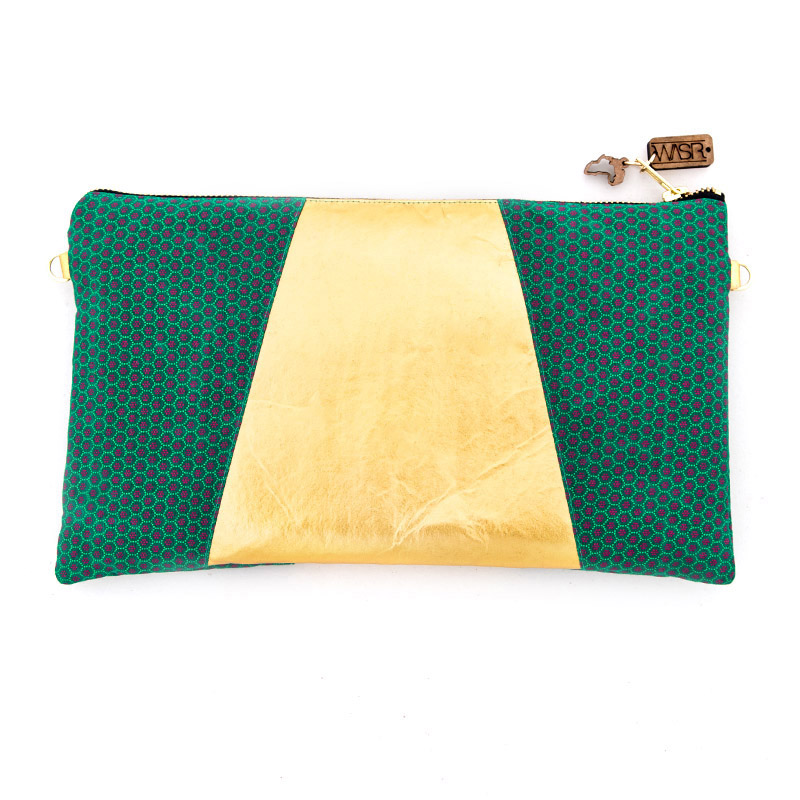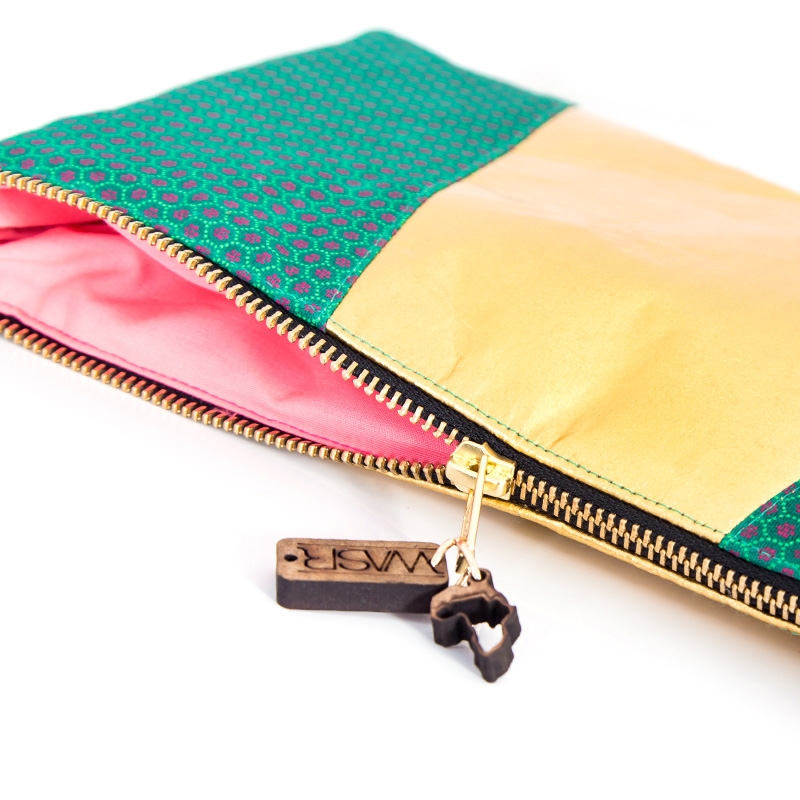 The IPANAPULA Collection
All bags in the IPANAPULA collection are 100% handmade and 100% vegan. The bags are made from Piñatex, an innovative vegan leather made from pineapple leaves and South African Shweshwe print.
The size of the clutch is around 8 x 12″ (20 x 30cm) and it currently sells for 140 Euro (≈ $160 ). It is available in 5 different designs. While Piñatex Oro is used for all bags, the prints differ. Some clutches feature strong ethnic prints, while others are a little more muted. All bags are also beautifully lined with pink fabric in bright colors matching the bag, which is another little detail we love. The bags have a small pocket on the inside and come with a detachable brass strap, that's ≈45″ (115 cm) long and allows you to turn your clutch into a small shoulder bag, that holds your essentials.
As readers of this blog, you know that vegan doesn't automatically mean cruelty-free. So besides evaluating the materials used to craft that beautiful bag you have your eye on, the conditions under which it was produced matter just as much, when making a buying decision. And this is where WEALLSHAREROOTS really stands out. All bags are produced in the Cape Town area in South Africa in partnership with women from local townships, small local businesses and artisians.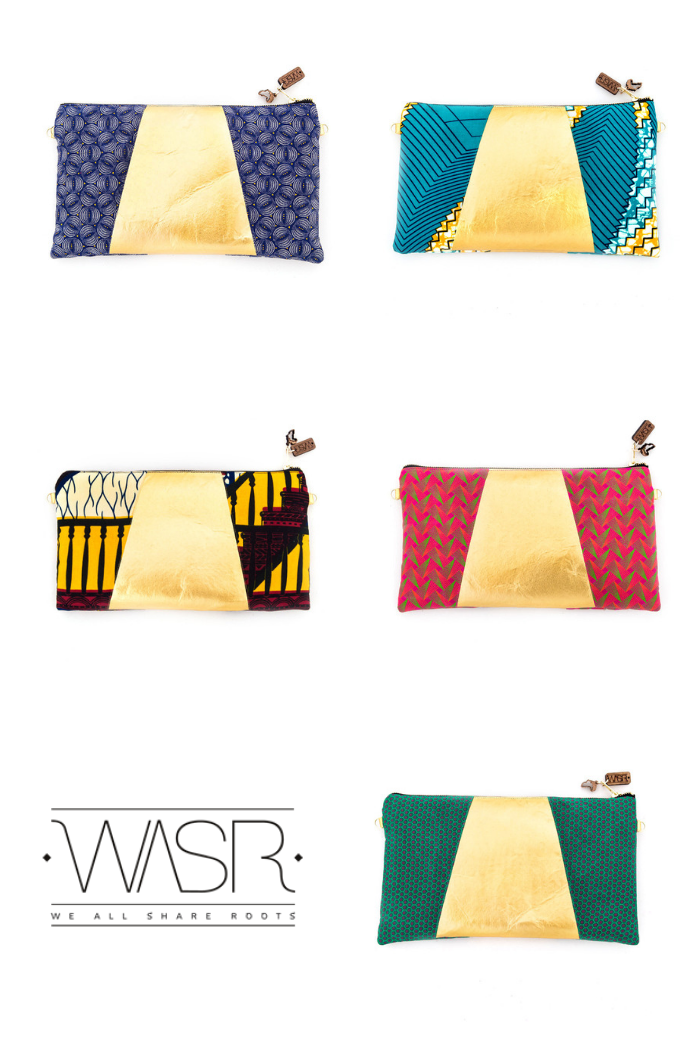 Interview with Elise Sormani, Founder and CEO of WEALLSHAREROOTS
WEALLSHAREROOTS has had a strong social mission, since its founding and we were lucky to catch founder and CEO Elise Sormani, who spoke to us about the company, its work, the organizations' values and future plans.
Elise, can you tell us a little bit about what 'We all share roots' does and how you came up with the idea to start the company? How long have you been working on this?
I decided to create WeAllShareRoots 3 years ago. My main goal at that time was to do something useful for South Africa (I am originally from France) and show the world how amazing the craftsmanship in this country really is. As I am a fashion accessories lover and a huge fan of African prints, I naturally started creating handbags. I created the entire production process to be socially ethical: local sourcing, seamstresses from disadvantaged communities, limited editions, short processes…. Three years after, the vision hasn't changed! We're still working hand in hand with small organizations, cooperatives of women in townships and family businesses.
And with regards to the bags themselves, we are very proud to combine our social project with high quality products, colorful items, city-chic designs.
When developing your brand, you chose to build it around a strong set of values. Can you tell us a little more about what those are and why this was important to you?
As I explained, the values behind the brand are as important as the bags we produce. I strongly feel the need to be in line with what I believe in. I believe in solidarity, in slow and conscious fashion, in meaningful, but also colorful products. I am also a young mother and I want to make sure that when my daughter will question me in the future about what I did for our planet, I can answer without blushing.
What makes your bags unique?
Each bag is carefully handmade. All the materials are chosen with a lot of care, time and love. Nothing is industrialized or dehumanized.
Each combination of African prints is unique and only available in limited editions. When the 20 we made of one color are sold, we move on to another color.
And obviously, in addition to all this, there is our story, the one of all the people involved in the production.
Why did you decide to add a vegan bag to your portfolio?
I am not vegan myself, but I do really care about what I eat, dress, etc. I really love our other ranges, but I am not always very comfortable when I ask myself where the leather comes from, how it was produced etc. As a small brand, you don't get answers about the origins of what you buy from your providers – at least in South Africa. They don't really care. So, I started looking for alternatives. I wanted to have a really conscious handbag, from materials to production process.
There are various leather alternatives out there. Why did you decide to work with Pinatex? And was has been your experience with the material compared to animal-based leathers?
Looking for alternatives wasn't easy. I care a lot about the quality and the visual aesthetic of the bags. Plastic was not an option and here on the tips of Africa, where I'm based, many cool alternatives are not available, you can't get samples. It wasn't easy at all to find a viable alternative…. And I then found Piñatex!!! It ticks all my boxes! It still was an odyssey to get some as the demand is higher than the supply, but I went through the process and got it! I have no regret; the quality is perfect.
Who is your customer?
Good question. We have various types of customers, from the ones who truly believe in our ethics and want to support us, to the ones who simply love African prints and our designs and go for it!
You currently sell online and in selected locations in France and South Africa. Are there plans to expand further?
Yes, we would love to expand. Nevertheless, our growth is slow as we only work with small cooperatives. We don't want to sacrifice our values or our quality. We go step by step.
What is the biggest challenge for your as founder of an independent label in the fashion industry right now?
In an industry where people either buy 1 million H&M T-shirts at 1 Euro or 1 Gucci dress at 1 million Euro (A little exaggerated, but you know what I mean…), it is not easy to find your space and earn enough money to make a decent income for everyone involved.
I want one!
If you want to get your very own IPANAPULA clutch, you can visit one of their retail locations in France of South Africa or order online in WEALLSHAREROOTS webshop. The bags ship internationally.