Good news, everyone! We may have found the perfect vegan tote! It's simple, yet beautiful. Fashion-forward, yet practical. Classic, yet cool. And it's available in our favorite evergreen color: black.
The tote we're talking about is Maniwala's 'Bayan'. It was a little bit like love at first sight, but we all know: It's really about the inner beauty. And luckily this bag doesn't disappoint in that department either. It's vegan, cruelty-free, crafted in the USA and comes with a lifetime guarantee. Ready to have a closer look? We sure are!

Maniwala's 'Bayan' Vegan Tote Bag
The Bayan Tote
is made from Piñatex, a leather alternative created from pineapple leaf fibre. It is plastic-free and of course 100% vegan. The only other material used to reinforce the straps is hemp. The bag itself is unlined, but has two small pockets on the inside, which allow you to store small items. There's also a latch point on the interior for key rings. With regards to practicability, our favorite part of the bag must be the two exterior straps, that are perfect to hold towels or other "bulky" items like a yoga mat. Beach bag, shopping bag, city shopper, work bag, yoga bag – all in one! We love the 'Bayan's versatility.
The bag is available in black. As mentioned, it is made from Piñatex, which is an all-natural material, that gives the bag its unique texture and look. The tote's measurements are 32 x 40 x 10 cm (≈12 x 16 x 4″).
View Price and Details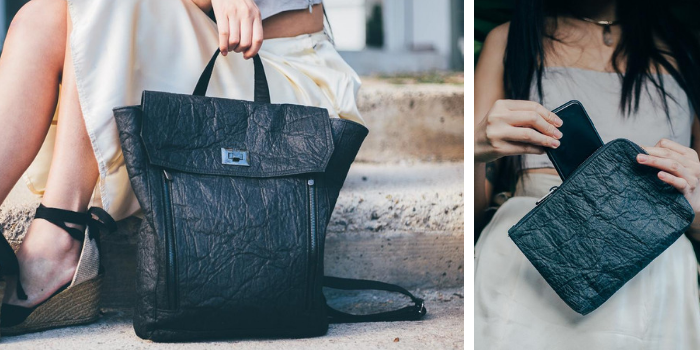 If you're currently not looking to add a tote to your wardrobe, you might want to have a look at some of the other bags Maniwala had in their collection. Two standouts are the Piñatex made backpack and pouch, that follow the same simple aesthetic as the tote.
MANIWALA Banwa Piñatex Backpack
MANIWALA Kilig Piñatex Pouch
Maniwala's Hemp Bags

If you love the tote, but Piñatex isn't for you, Maniwala's Bayan Hemp Tote Bag might be for you. The hemp used is of course pesticide-free. The pouch is also available in hemp.
About Maniwala
"Maniwala is committed to being a positive source of good in this world." And in order to achieve this and hold itself accountable,  the California-based brand was founded with a strong set of values, that guides design and production alike.
Maniwala is a vegan brand, that works on keeping its products and packaging plastic-free.
All bags are made in the USA, cut and sewn in Los Angeles. All materials are ethically sourced.
Scraps are repurposed into smaller items.
Maniwala is committed to transparency in each step of their production process.
Linings are made from pesticide-free hemp.
All goods are backed by a lifetime guarantee.
"Not everything worth doing comes easy. But if you can believe it, you can make it real. Maniwala comes from the Filipino term, meaning to believe."
(All images by Maniwala)