Angela Roi is launching a new collection of vegan leather handbags dedicated to the American author and civil rights activist Maya Angelou this fall. We already loved the Hamilton collection, which debuted earlier this year in celebration of Margaret Hamilton's achievements and this new series sure doesn't disappoint. What's special about this collection is its "mix & match" character. You pick one of three "base bags" and can then customize it based on your preference with a variety of shoulder and hand straps.
The Angela Roi 'Angelou' Mini Bucket Bag
The Angelou is a designer pebble textured mini bucket bag with magnetic closure and classic brass gold hardware. It comes with a non-adjustable shoulder strap and a non-adjustable hand strap. The bag is lined with fabric and has a practical zipper pocket on the enside. The Angela Roi logo is embossed on the front of the bag.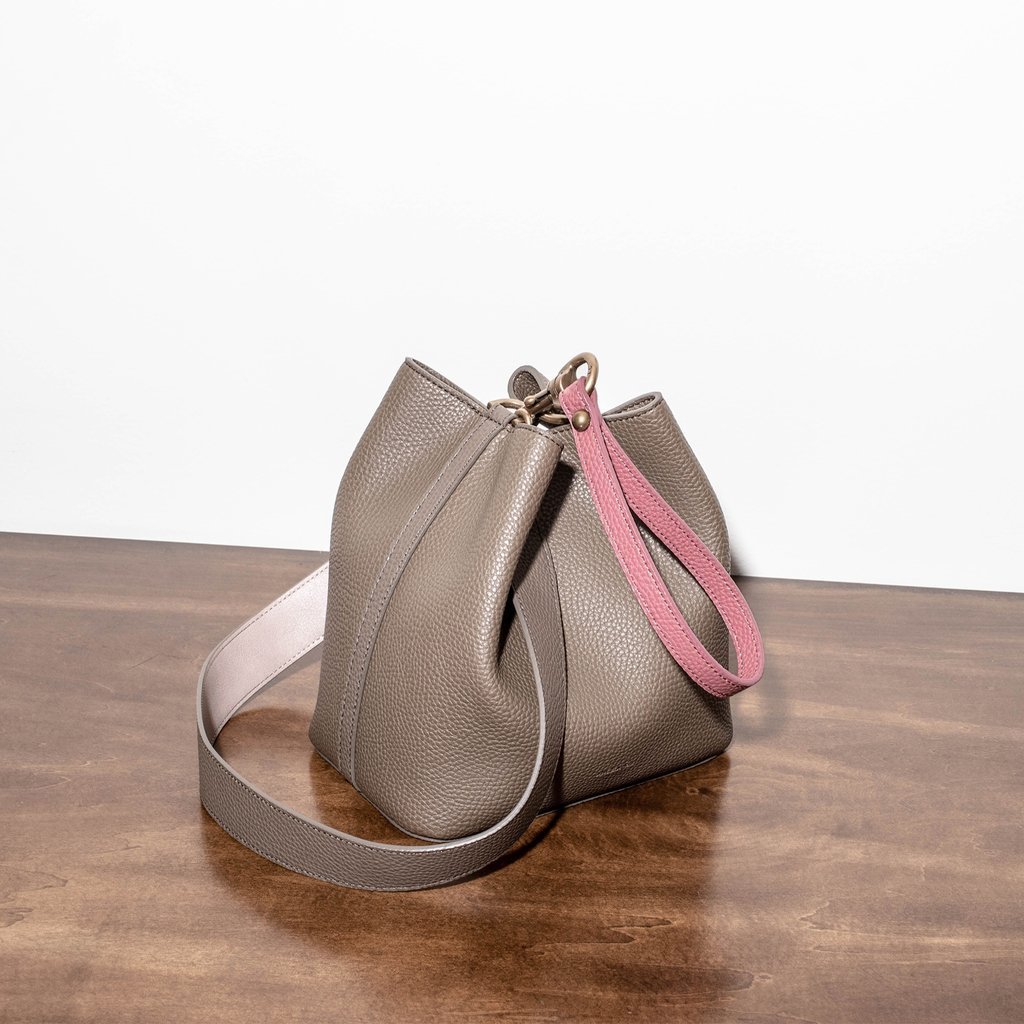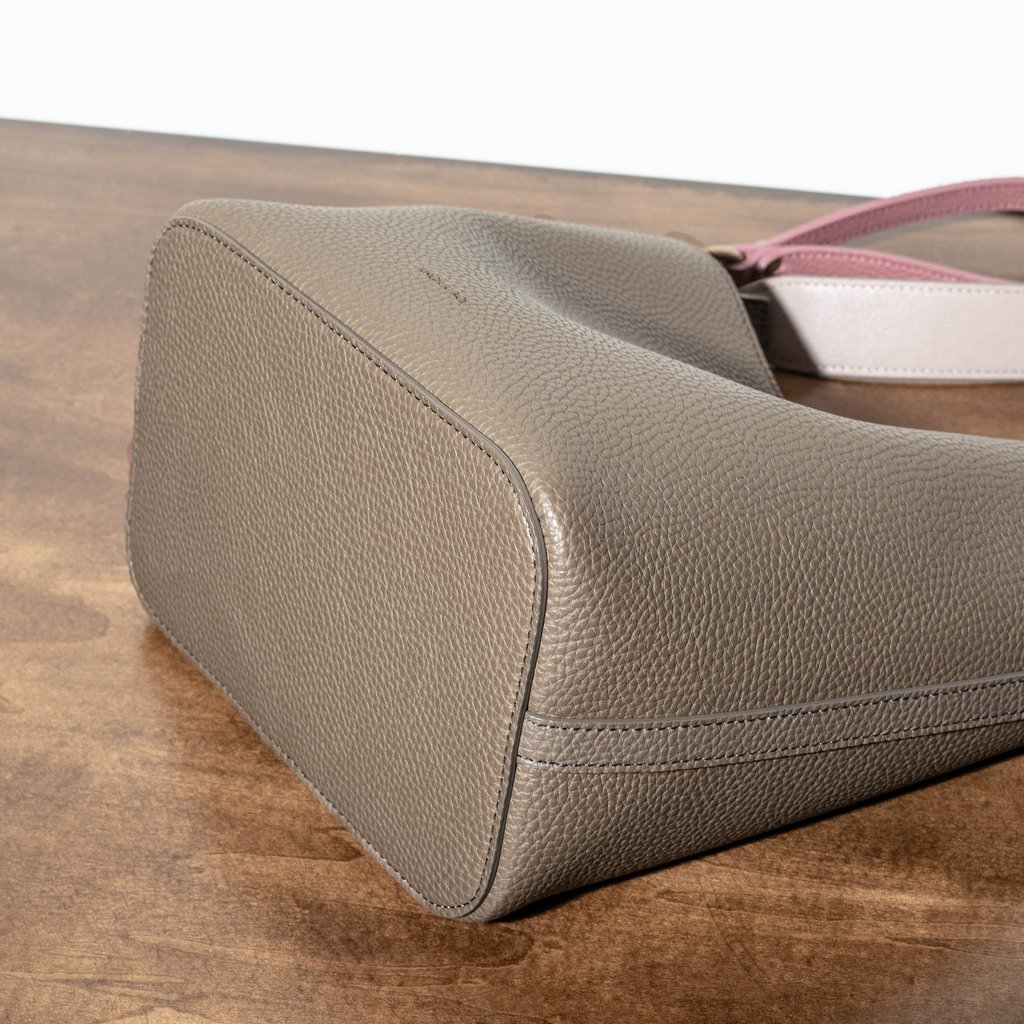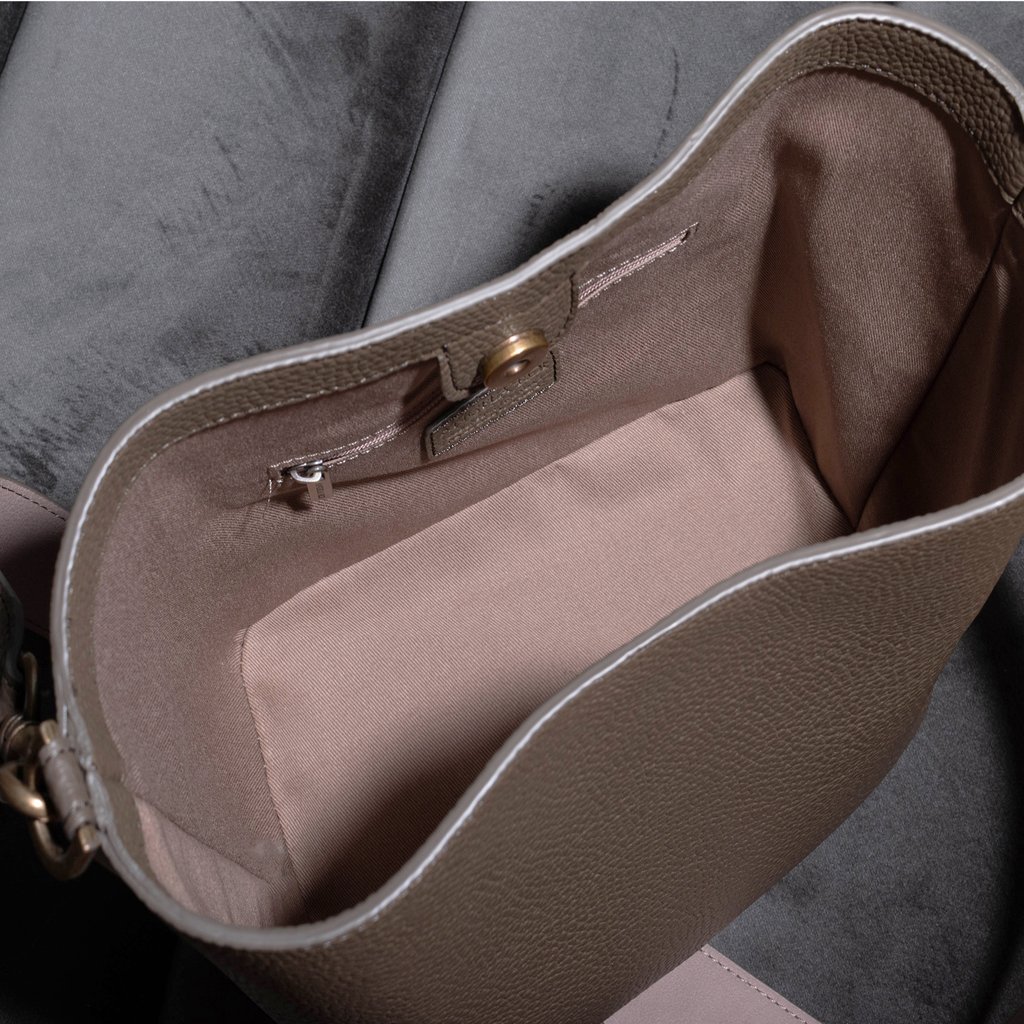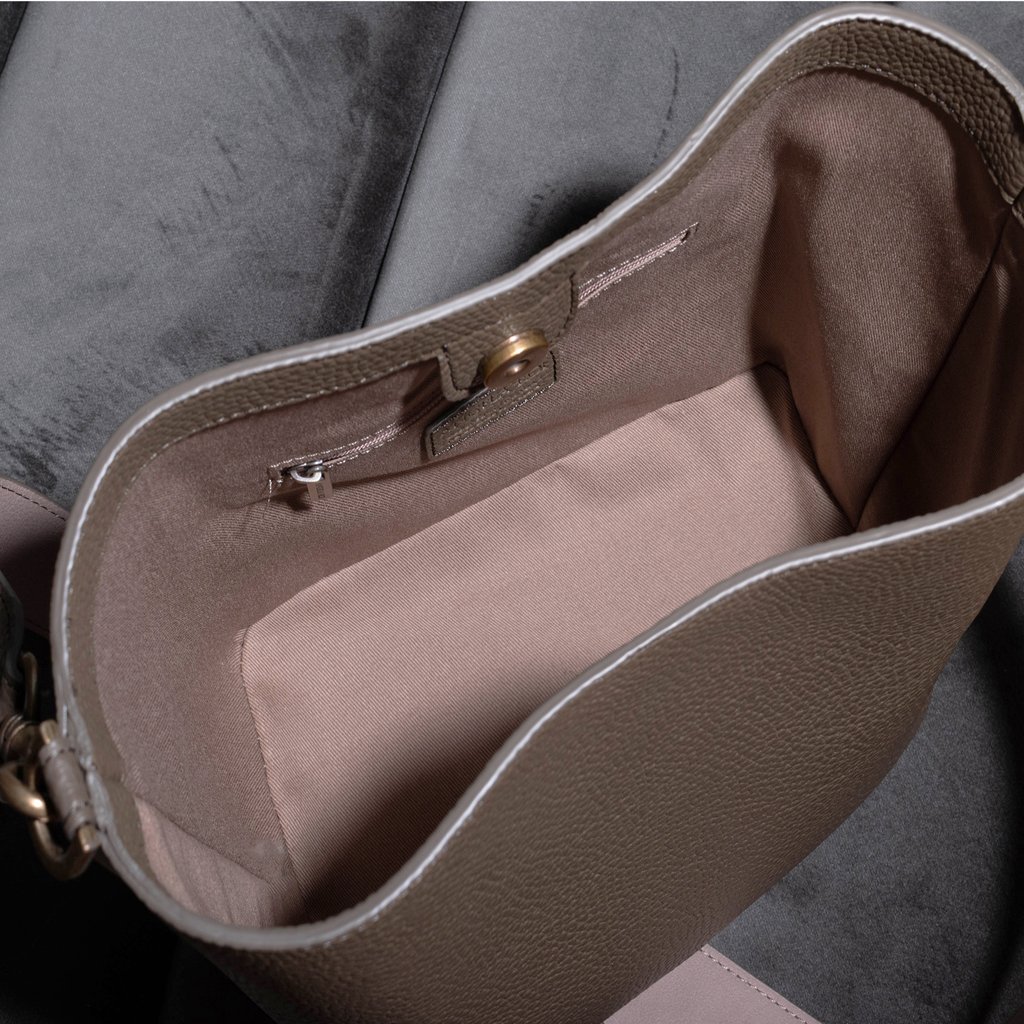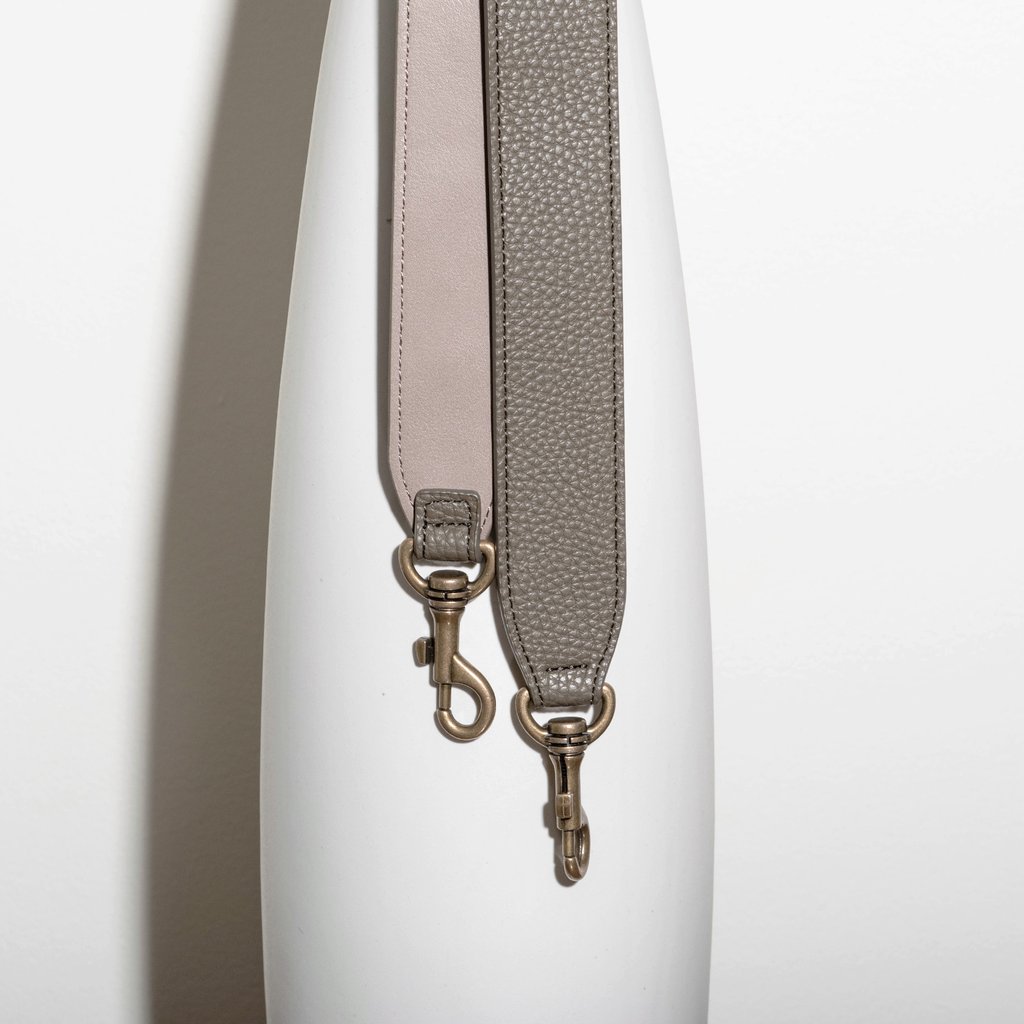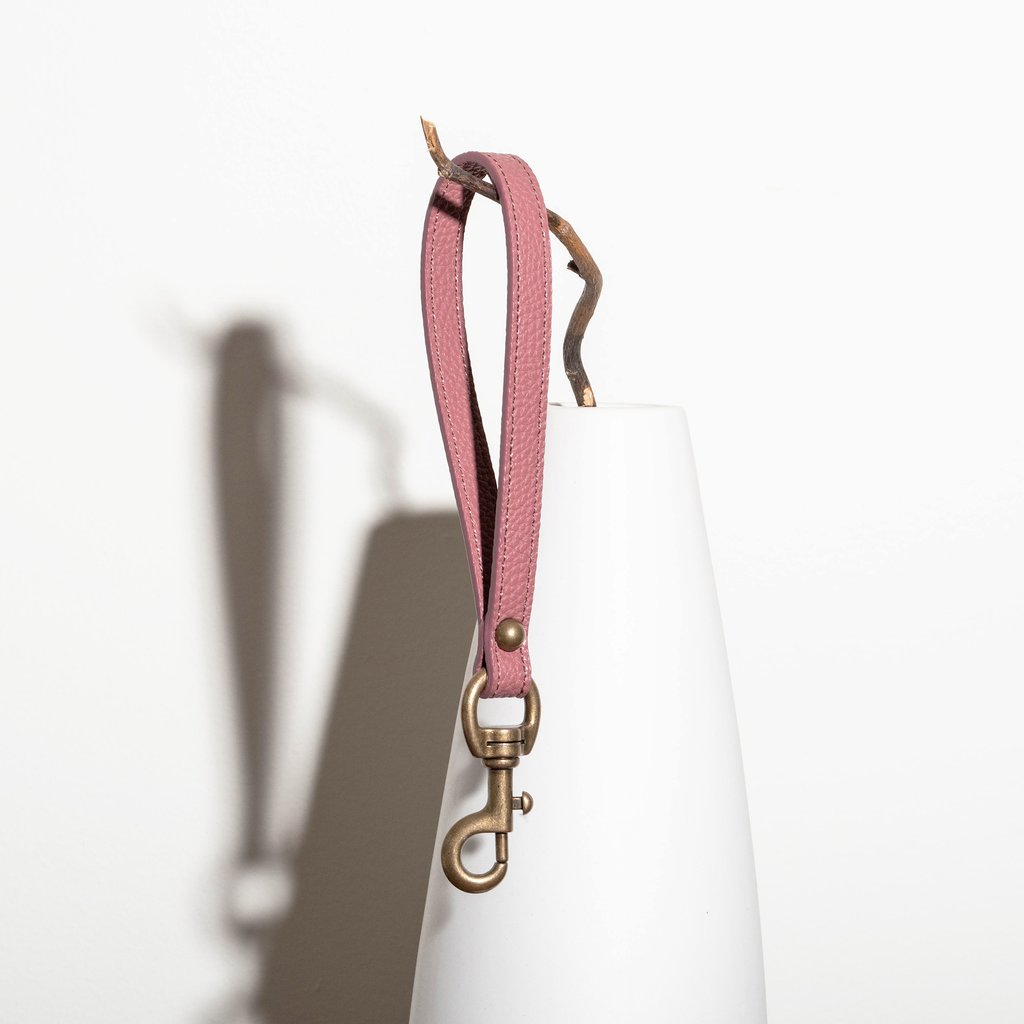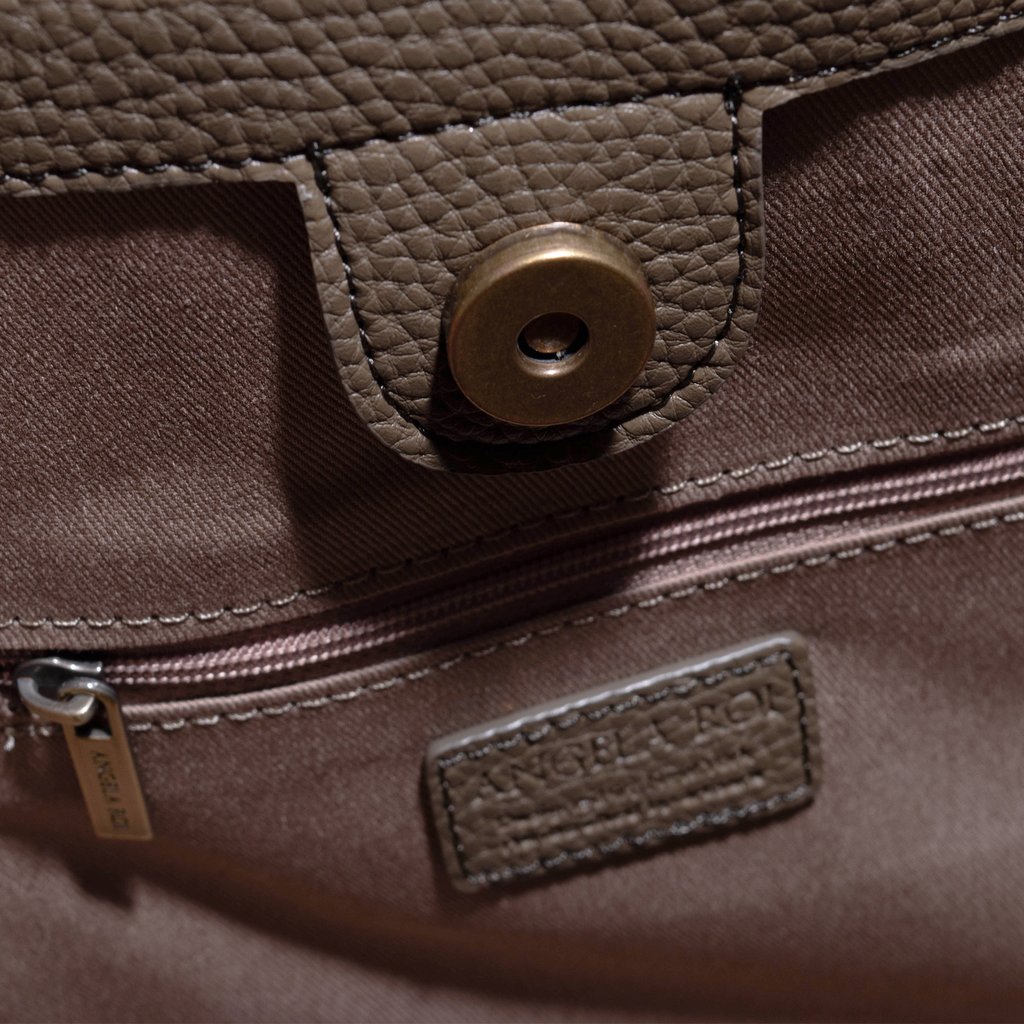 The bag is available in three different colors: Ash brown (shown above, light gray and black (shown below). The colors are muted, perfect for the upcoming fall and winter season and can be easily matched with any outfit. The Angelou is a great bag for your everyday needs.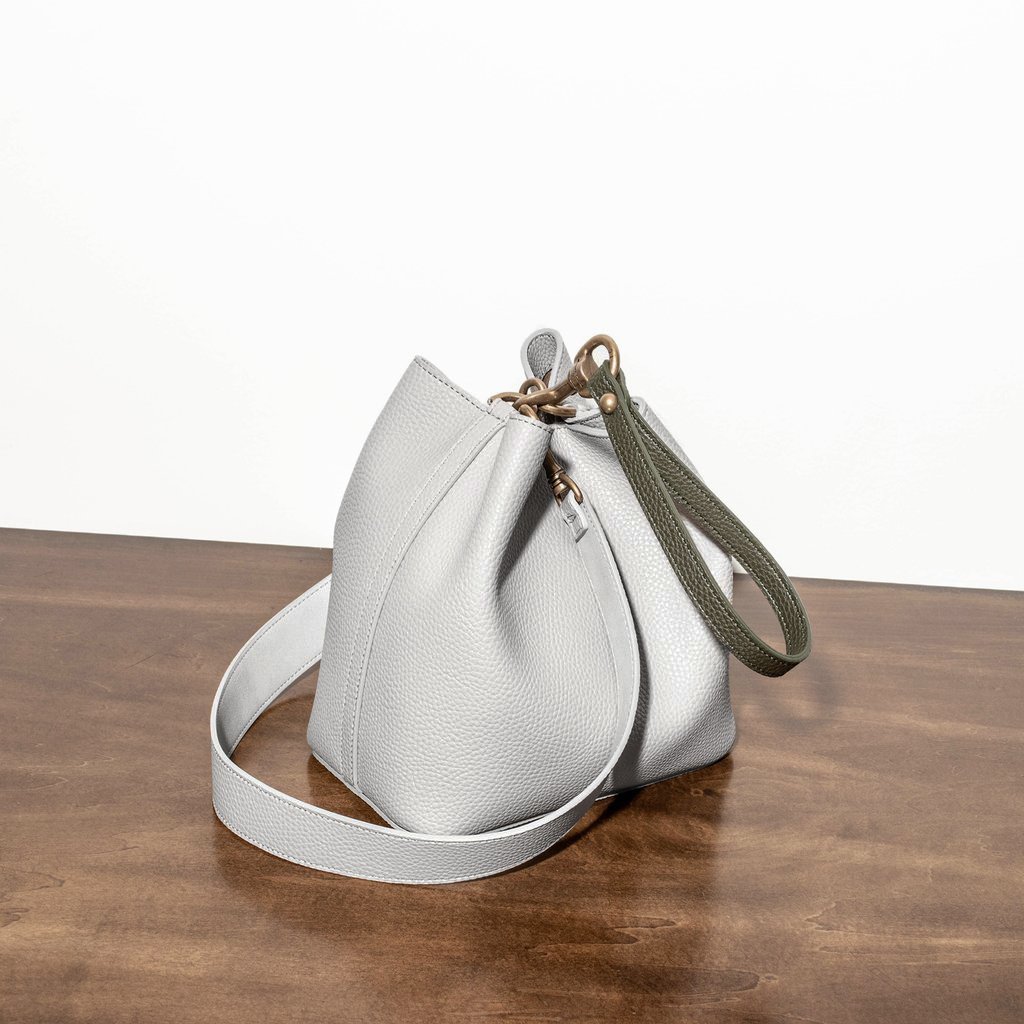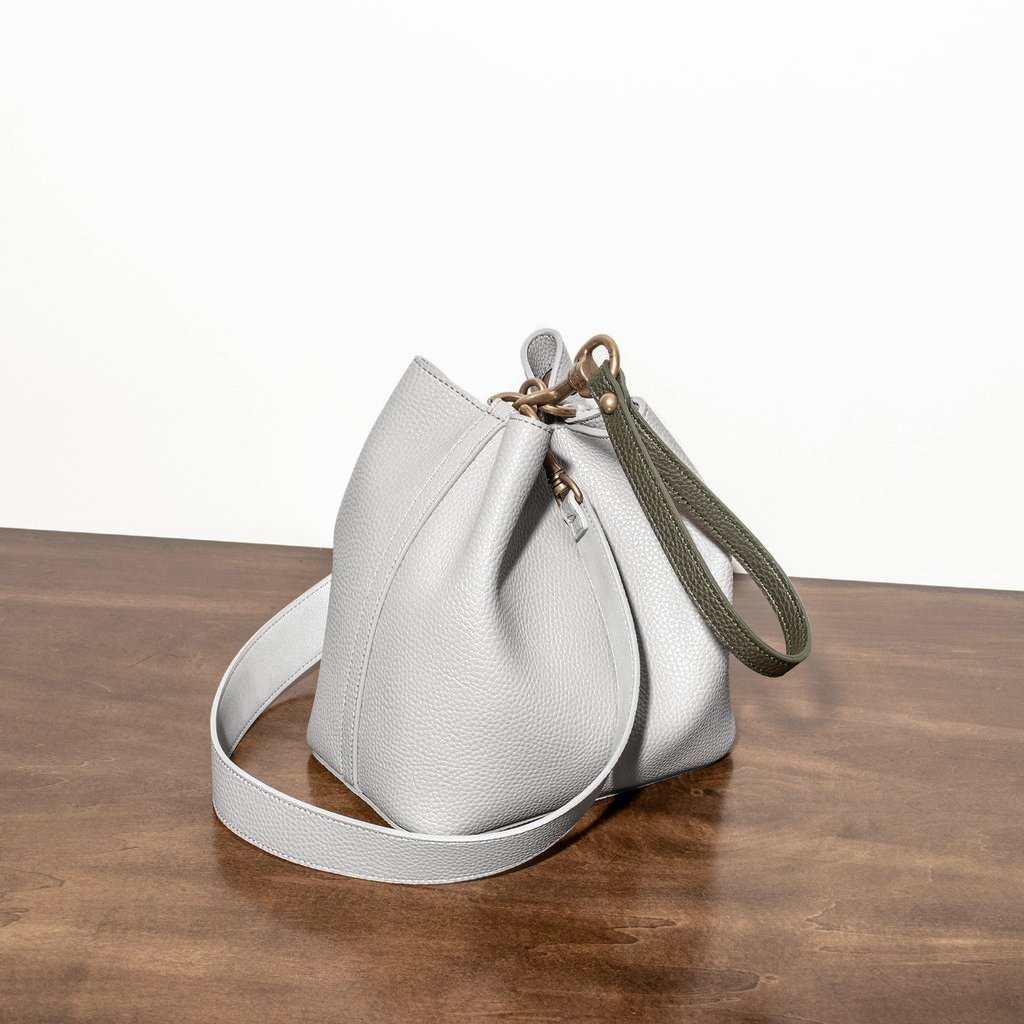 To mix things up and add a little fun to your bag collection, you can purchase additional double-sided shoulder straps and handstraps. Those are available in a great variety of colors: nude pink, ivory, red, light grey, black, ash, mustard, red, and olive. Our favorite? A combination of the light grey bag with an additional red and pink shoulder strap to mix things up! yes, we like to add a little color to brighten up the upcoming grey winter days! Although there is only one model in this collection, you can easily customize the bag to fit your personal style by picking the right additional straps.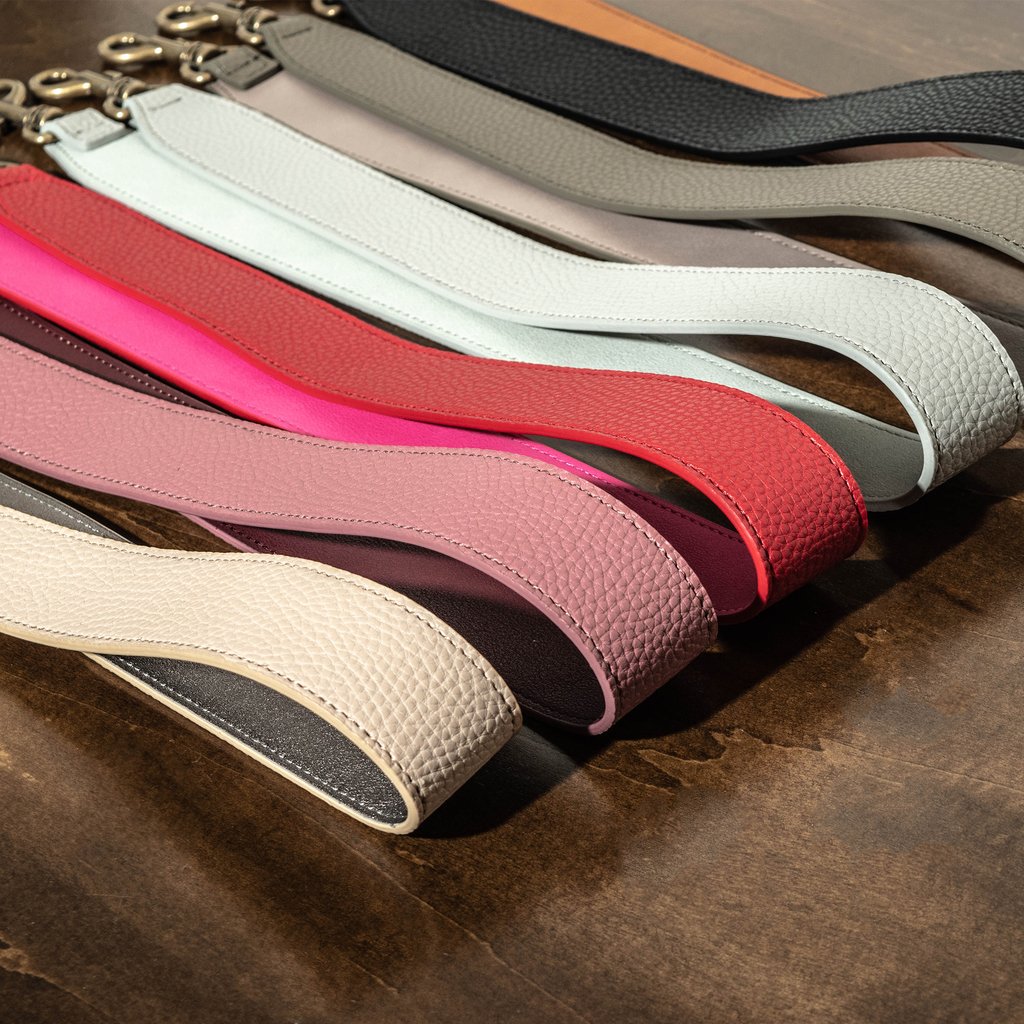 All Details about Angela Roi's Angelou Mini Bucket Bag
As all other Angela Roi vegan leather handbags, the Angelou is cruelty-free and sweatshop-free. It is handcrafted using vegan leather (EPUL). The width is 8.25", the height is 8.5", the depth is 5.5". The hand strap drop length is 9″, the hand strap loop drop length is 6″ and the shoulder strap drop length is 17.5″. Both the shoulder strap and hand strap are created for shorter wear, which is an important detail to note as the straps are not adjustable. The bag is not meant to be worn as a crossbody bag. If you're looking for a crossbody bag, you can check out our collection of 30 beautiful crossbody bags in a previous past. The weight is 2lb and the bag is spacious enough to fit an iPad mini.
The bag is currently priced at USD 155$ and can be bought online in the Angela Roi webshop.
Who is Maya Angelou?
How much a woman can accomplish in life when she has a spirit. Named after Maya Angelou, a poet, singer, memoirist, civil right activist, and an overall rich spirit, the Angelou Mini Bucket represents a creative mind, energetic soul, and meaningful activities.

Angela Roi about Maya Angelou and The Angelou Bucket Bag
Today Maya Angelou is best known for her work as an author. She has written over 30 books and has received over 50 honors over the course of her career. Before becoming a writer, however, Angelou had a colorful career, that sure inspired her talent for storytelling. She was a cook a dancer, an actor a singer and even a newspaper editor at some point in her life. Maya Angelou was born as Marguerite Annie Johnson in 1928 in St. Louis and came up with "Maya Angelou" in the 50s. Her "new name" was inspired by her childhood nickname and her then-husband's second name.
While her writing is what made her world-famous, there are many more stories to tell about Maya Angelou. We have collected some of them below.
Maya Angelou worked as a cable car conductor in San Francisco for a while. She was the first African American to do so.
It was at age 16, when the young Maya Angelou decided she wanted to be a cable car conductor in San Francisco. She was one of those people, who would set her mind on a goal and then work hard to achieve it. After long ours of sitting at the city office reading and waiting and trying to convince them to hire her, it finally happened and she had the job.
Google Dedicated a Google Doodle to Maya Angelou on her 90th Birthday
On April 4, 2018 everyone who visited google.com was greeted with a Doodle dedicated to Maya Angelou.

The video featured her own voice and the voices of many people she inspired. The poem in the doodle is called "Still I Rise" and was written by Maya Angelou herself.
Maya Angelou has Won Three Grammy Awards
Maya Angelou was nominated for the Grammy five times and won it three times for best work albums. Her winning albums were "The Pulse of Morning" (1993), Phenomenal Woman (1995) and "A Song Flung Up to Heaven" (2002). She has also been nominated for the Tony Award in the 70s.
Maya Angelou, The Writer
Later in life Maya Angelou went on to publish over 50 books. Her first one was "I Know Why the Caged Bird Sings". If you'd like to learn more about her work, you can browse her works on Amazon.
Buy Angela Roi's Vegan Leather Handbag 'Angelou'
The Maya Angelou bag started to sell on September 27, 2018 and can be bought in the Angela Roi webshop. It was initially announced about two weeks earlier in the brand's newsletter, so fans could have an exclusive look before the official launch date.
The bag is currently priced at USD 185$, additional shoulder straps cost USD 55$ and additional hand straps set you back by USD 35$.
About the Angela Roi brand
Angela Roi was founded as an ethical luxury brand in 2013 in New York on the foundation of kindness, values and love. The bags are made with a classy young woman, who loves animals in mind. The designs feature classic shapes and are handcrafted using premium materials. Angela Roi is a high-end vegan fashion brand and takes pride in the unparalleled attention to detail and impeccable craftsmanship, that goes into every single bag.
(The images in this post and the thumbnail image are courtesy of Angela Roi)