If you are interested in cruelty-fashion and vegan leather alternative, you've probably heard about Piñatex, the "pinapple leather", that has risen in popularity in the past few months and years. But what is Piñatex anyways? We've put together a comprehensive overview for you, that has all information from production process to founding story to a list of vegan bag designers, who work with the innovative material. We hope to have thoroughly answered the question: "What is Pinatex?" in the article below! If you still have questions after reading everything, let us know in the comments!
What is Piñatex?
Piñatex is a natural textile made from pineapple leaf fibre. The leaves are the byproduct of pineapple agriculture, which means their use creates an additional income stream for farmers and prevents the raw materials from going to waste. Piñatex is vegan, cruelty-free, all-natural and sustainably-sourced. The impact on the environment is low, the social responsibility high, which makes the material a great choice for conscious designers and shoppers alike.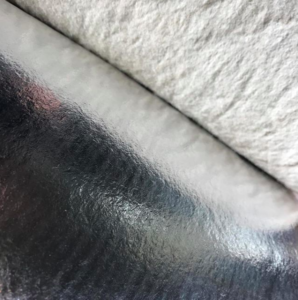 Piñatex is available intwo different styles: Piñatex Original and Piñatex Oro.
Piñatex Original is similar to leather, has a natural texture and crumpled appearance. It is available in the colors charcoal, natural, paprika and brown right now.
Piñatex Oro has a futuristic, metallic look and a smooth appearance. It is available in gold and silver. Besides the smooth-surfaced version, the material is also available with a crumpled appearance similar to Pinatex Original.
Ananas Anam, the company behind Piñatex, currently only operates in the B2B space, which means they supply materials to designers and manufacturers, but don't produce their own consumer products.
How is Piñatex made?
Piñatex is made from the fibre of the leaves of the pineapple plant. During pineapple harvest, the leaves are usually discarded, so the raw material for Piñatex is usually a waste product. Farming communities can earn an extra income, by processing pineapple leaves for vegan leather production. This process is called decortication. During decortication long fibres are extracted. This process can also be supported by an automated decorticating machine, which Ananas Anam, the company behind Piñatex has developed. The technology allows farmers to process larger amount of pineapple leaves. The leftover of the decortication process is a biomass, that can be used as biofuel or fertilizer.
Once the decortication process is finished, the fibres are degummed and are further processed to become a mesh. The rolls of this non-woven mesh are then go through a specialised finishing in Spain, where they are turned into the soft and flexible material known as Pinatex.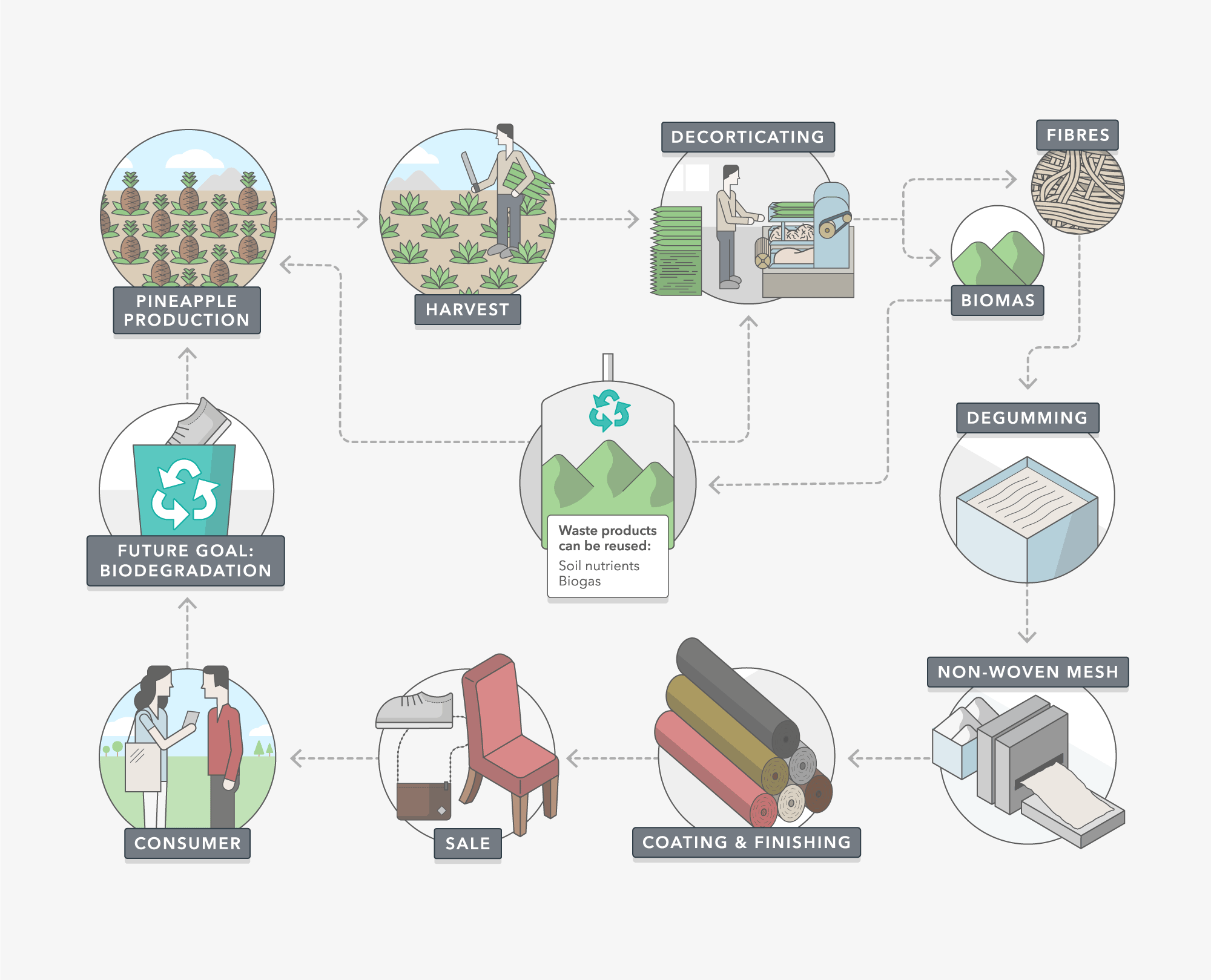 The Story behind Piñatex
Piñatex was invented in the 90s, when Carmen Hijosa was a consultant in the Philippines leather export industry and was shocked by the environmental impact and chemicals used for tanning. Her experience motivated her to research a more sustainable alternative. Hijosa was inspired by the use of plant fibre in traditional weaving and set out to create a non-woven version, that could be commercially produced, while still maintaining a low environmental impact.
The founder Carmen Hijosa has spoken about Piñatex story at many events including TedX.
What products are made of Piñatex?
Various designers and industry have discovered the advantages of over the years and the variety of products made from the vegan leather is ever expanding. One of the biggest adopters has unsurprisingly been the fashion industry. Piñatex has been used for clothes and accessories like watches or bags. You can also buy shoes made from Piñatex. Designers who have used Piñatex for footwear include Hugo Boss, Nae Vegan, or Po-zu.
Piñatex has also proven suitable for all kinds of furnishings. It has been used to create high-end furniture and has been used in automotive upholstery.
The most unusal Piñatex products we've come across are probably by Funky Dog Bow Ties, a company, that creates accessories for dogs, as the name may suggest.
Which designers use Piñatex leather for their bags today?
A number of designers have already started to work with Piñatex, so there is a good number of bags made from the material on the market today.
Barkskin is a British design studio, that creates totes, shoulder and duffle-bags. The company recently ran a kickstarter.
Gold is a Neutral creates colorful clutches made from sustainable materials and showcases textile arts from around the world.
Alexandra K creates luxurious hand bags.
Allure Sauvage is dedicated to creating environmentally friendly bags for an ever-changing world.
Be Mine Bags creates a line of colorful and edgy statement bags, that will turn heads. The collection inclused clutches, handbags, bucket bags and satchels.
Camille has created a modern line of bags made from Piñatex, that includes crossbody bags, totes, pouches and clutches.
Distyled celebrates neutrals. The bags are beautifully minimalistic and have a unique, non-tacky futuristic look.
Dorayakay creates well-designed bags, with a relaxed and casual look. Despite the casual feel of the bags, the high-end design definitly comes through.
Eve and Adis creations are a mixture between minimalism and boho chic.
Ferdin and Noah is known for casual bags. Besides their colorful signature totes, they also create yoga and laptop bags as well as clutches.
Greywhale creates simplistic, functional totes.
Henties creates minimatistic totes and crossbody bags made from Piñatex.
Herdentier is a German brand known for its colorful, casual tote bags, clutches and crossbody bags.
Ina Koelln uses Piñatex to create backpacks and crossbody bags with clean lines
Kaliber Fashion work with Piñatex Oro to create stylish backpacks.
Luciela is a Czech bag label, with an edgy aesthetic.
Maravillas creates timeless bags, with clean lines and an evergreen look and feel. Their vegan collection is designed with the urban woman in mind.
MDK is a Swiss labal, that creates beautifully designed unique backpacks and other functional bags. Their look is modern and edgy.
Things I Miss is an avantgarde hight fashion label. With regards to Pinatex, they are known for their signature Piñatex bag, called the "BIGROUNDBIKEBAG".
Ziza is an Italian designer label, that creates bags in various styles using Piñatex Oro.
Elianai is currently working on a vegan collection made from Piñatex.
Hipster for Sisters created urban, bohemiam bags with a unique look. They have carious types of bags on offer.
Maniwala is known for its functional totes, laptop bags and accessories. the design is simple and minimalistic.
Rais Case is known for its multifunctional, creative, and experiential designs.
SVALA started out as a loungewear brand and expanded its collection to include a sophisticated line of bags about a year ago.
Willique creates avantgarde  bags from vegan leather, that any fashionista would be proud to call her own.
Kantala's design aesthtique is inspired by its Asian origin. Their beautiful, colorful totes are a showstopper.
Mary's Pinapple is a Korean brand that creates simple and funtional backpacks from Piñatex.
Sandra Meynier Kang is orginally a dance brand, that creates cruelty-free ballet slippers and such. they also sell a Pinatex-made box bag with a very interesting, unique design.
VE love has launched a limited edition of dreamy Piñatex clutches and pouches.
The Ahimsa Collective is known for it's well-constructed bags. Their Piñatex range includes clutches and totes.
TAIKKA is an Australian/Finnish collaboration. the label creates cool and functional bags,  that combine Nordic minimalism with Austrian beach breeze.
We All Share Roots is an African brand, that has created a beautiful line of clutches using Piñatex Oro.
Where can I buy Piñatex products?
Ananas Anan, the company behind Piñatex is currently only operated B2B, which means they sell material to designers, but don't create their own designs. if you're looking to purchase a Piñatex bag, we recommend going through the list above and checking on the designers' websites.
If you've decided, that Piñatex might not be the right vegan leather alternative for you, you're in luck and have a lot of other options. Head on over to our Ultimate Guide of Vegan Alternatives to find the right vegan material for your next designer bag.
(Thumbnail via Instagram by Pinatex, Images by Pinatex)