Since a few days ago, there's only one thing on our mind. We think about it, when we wake up in the morning, before we go to bed at night and pretty much all the time in between. As you might recall we shared a selection of our favorite crossbody bags with you. And ever since there's this one small vegan bag we can't seem to get out of our head: The Melie Bianco 'Ellie' Crossbody.
No, it may not be the most spacious or practical bag in the world, but what it doesn't have in practicability it makes up for in beauty. We love the unusual vertical rectangle shape and how slim it is. The cobra chain gives it an extra sophisticated look and makes it the perfect party bag. And before you ask: Yes, it fits your phone!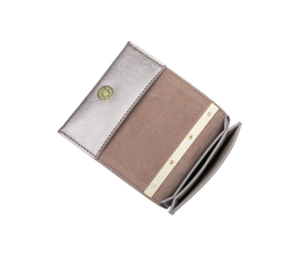 The Melie Bianco 'Ellie' is a small vegan bag made from luxury vegan leather. It has double compartments, a slot for your credit card, and a magnetic closure. The front flap features a gold "M" art deco logo. The cobra strap is gold as well. We like the combination of the gold hardware details and the bags pewter, silver-ish body. The measurements of the purse are 5″ x 7,5″.
It is the perfect bag for all kinds of evening events and will take you from a fancy premiere directly to the cray after-party. It's neutral color can be easily combined with any outfit. The bag's classic look ensures that you will love this bag for longer than just one season.  The minimalist design and clean lines in combination with the gold hardware details give this bag a young, yet classic look.
We love this small vegan bag in the color "pewter" as shown below, but it is also available in black and gold. We really like the silver-gold combination of the pewter bag, as it goes well with both gold or silver jewelry. Yes, we like details…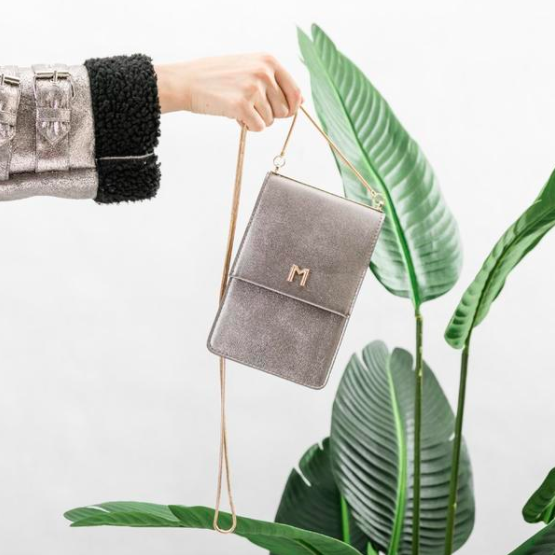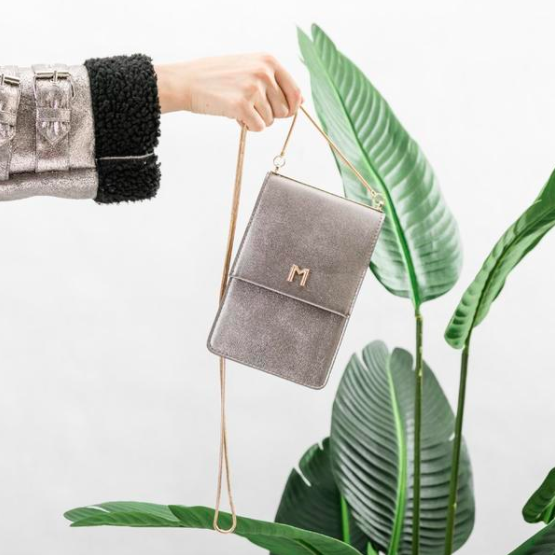 Well. What's left to say?! Looks like we found the… well… one of the many perfect bags. Now we just need a red carpet! Anyone got an invite?!
You can buy the Melie Bianco 'Ellie' Slim Crossbody Bag on Amazon.
(Images by Melie Bianco)