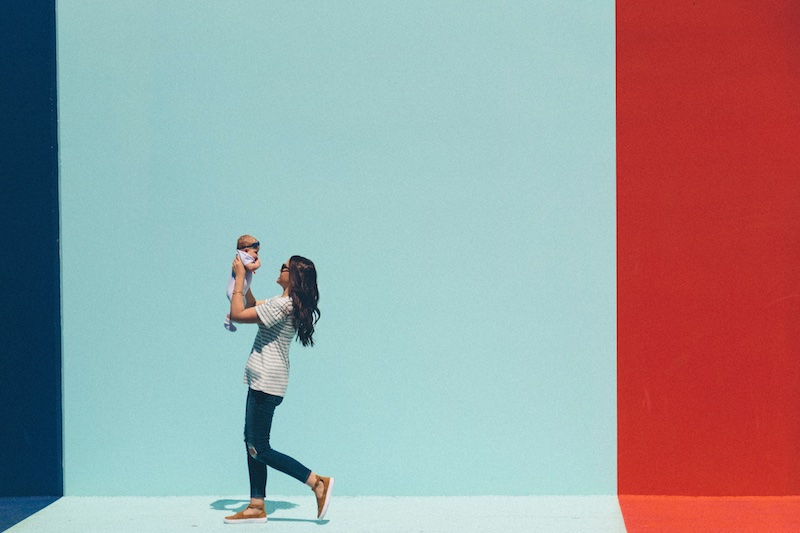 With a little one on the way, you probably have a lot on your mind already, so we've taken the time to do some research and find the best vegan diaper bags and backpacks on the market right now. Besides making sure only vegan material have been used, we also made sure the bags we suggest meet high standards when it comes to capacity, ease of use, style, quality and weight. So if you're currently on the look-out for the perfect vegan diaper bag, we got your back!
How to Choose the Perfect Vegan Diaper Bag or Backpack for Your Needs
When it comes to diaper bags, the choice is big and it can be difficult to find the right bag. So before you start to google or make your way from store to store you might want to ask yourself how you will be using this new diaper bag. Will you carry it around a lot? Or mainly leave it in the car? Do you plan to use it as your only bag or will you be carrying an additional purse for your stuff? Will you be out and about a lot? And while style shouldn't be the primary deciding factor, you should make sure practicability isn't the only thing, that determines your decision. You'll be using that bag for a while, so make sure you pick one you really like.
What to Look for in a Diaper Bag or Backpack
A diaper bag or backpack is one of the most essential buys for a prepared parent to-be. However, there are hundreds of diaper bags on the market and we know that for someone new to parenting, it can be quite overwhelming deciding on what bag to purchase. Our recommendation: Think carefully about what you want in a diaper bag and make a list of things you want. Don't compromise on features you think you really want! To help you get started, we've put together a bit of a buying guide and outlined features you might want to consider below.
1. Material
Your diaper bag is something you will get to use a lot so you would want to select a material that is easy to wipe clean and is durable. It is pertinent that you chose a diaper bag that doesn't get stained easily and even when it does, the stains are able come right off without putting in too much effort. Asides that, they are parents that prefer not killing an animal before being able to carry a bag (i.e prefer vegan bags to organic ones), well the good news is, there are several hundreds of vegan diaper bags made of 100% polyurethane material on the market! It's totally safe and natural, so if your preference falls in this category, you're covered.
2. Size and Space
If you're someone that "just in case" likes to tote the whole house with you when going out, then you might as well want to go with a diaper bag that is larger in size with more organization in it so everything fits well. But if you want a more compact bag, perhaps something that is light-weight, then a slightly smaller bag that fits all of your supplies is adviced. But really your diaper bag should at least be big enough to fit 3-5 diapers, change of clothes, bottle, wipes, bibs and such. You never know what you can meet.
3. Compartments
There always should be different compartments in a diaper bag which consists of larger and smaller ones. The major and large compartment can fit the diapers and clothes, then smaller compartments can fit lotions, pacifiers, rash cream, bibs and so on, and the other compartments which are waterproofed would fit the feeding bottles, flasks or soiled clothes. All these compartments are needed in order to keep your diaper bag neat and organized, and for you to be able to get what you need on time.
4. Waterproof Lining
When dealing with babies, messy situations as well as accidents cannot be avoided. Now if they accidently spill stuff or get their clothes soiled, you want to be able to store soiled or wet clothings in your diaper bag until you are able to make it home. Also they will be times when a bottle might accidentally leak. Having a waterproof lining in your diaper bag makes clean-up very easy.
5. Style and Color
The style and the color of bag you chose is also a very important. Some parent might prefer a bag that doesn't screams baby, as they do not want to lose their self-identity especially as new parents. So going with a bag that looks more like a bag than a diaper bag is very chic. Selecting cool colours based on your preferences is also nice but does it go with everything?
6. Cost
The fact that a bag costs more than the other doesn't make it better than the one that costs less. However it is important to get a bag that is of high quality and is durable rather than a cheap one that wears off easily. There is a middle ground between affordability and quality, you just need to do your research and find the right bag for you.
7. Totability
Really, it takes being a super hero to be able to tote your baby, a child seat, a stroller, your purse – and now a baby diaper bag? Super amazing! However, these things tend to weigh on the hands. A diaper bag should be able to free up your arms and hands, to help you carry what is important – your baby. So it is advised to opt for a bag that leaves your hands free, such as a backpack, sling, or messenger-style bag. Some bags also convert into a backpack style. But it is important that it feels good to you and you are comfortable.
If you do your research, consider all those features and make sure your diaper bags meets your needs, you are sure to be a happier parent for it! And if you wanna let us do the "heavy lifting" for you, check out the bags below and see, if any of our favorite bags fit your needs! We've selected
15 Best Vegan Diaper Bags
10 Best Vegan Diaper Backpacks
Let us know in the comments, which one is your favorite and what YOU look for in the perfect diaper bag!
The 15 Best Vegan Diaper Bags
1. Fisher Price Quilted Baby Diaper Bag
As an American company trusted by moms and dads for more than 80 years, it is no surprise, that Fisher Price also has a diaper bag on the market. Their Quilted Baby Diaper Bag has 2 insulated bottle holds and inner slip pockets, which can hold up to 5 bottles. The bag is very roomy and has 9 pockets, which offers space for anything parent and baby could possible need and helps you stay organized on the road with your little one. The bag is also lightweight, easily portable, and comes with stroller hooks.
2. Vilah Bloom Cafe Crossover Diaper Bag
The Vilah Bloom Cafe Crossover Diaper Bag is made from pebbled vegan leather (free of PVC, BPA & Phthalates) and comes with a lot of hidden perks. It features a wet wipe dispenser and can be worn 4 ways (shoulder, crossbody, backpack, stroller hooks). This diaper bas also has one insulated pocket to keep bottles warm and two regular slip pockets, that can be used for bottles or food. You can find additional zippered pockets on the inside and outside of the bag. The bottom of the bag is reinforced to ensure durability and sturdiness.
3. Arrows Weekender Diaper Tote Bag by White Elm
White Elm's "Arrows" Diaper Bag combines style with practicability. It comes with 4 interior open pockets and 2 bottle pockets on the outside. The bag is quite big and versatile and fits anything you and your little one could need. The bag is made from vegan leather (straps) and cotton canvas (washable!). The lining is water resistant, which makes it really easy to clean this bag. It comes in a number of different colors (e.g. red, turquoise, navy, black)
4. Storksak Eden Diaper Bag
The Eden Diaper Bag is Storksak's first vegan bag and has been created with both design and functionality in mind. It is made from 100% PU vegan leather, is phythalate free, PVC free, BPA free, acid free and environmentally friendly. The bag has a zipper closure and Storksak's signature wipe clean linings throughout. It comes with four large pockets on the outside and has a built in insulated bottle compartment. It features four additional slip pockets on the inside for your valueables. The bag is machine washable, which makes cleaning easy.
5. SoHo Collections Olympia 3-in-1 Baby Diaper Bag & Backpack
We love the look of the SoHo Collections Olympia Diaper Bag. It's just really… well… chic! But don't let the looks deceive you: This bag has a lot to offer in terms of functionality as well. It can be carried 3 ways and converts from a tote to a diaper backpack and back to a messenger bag. It features 11 pockets in total including insulated bottle pockets and a security zippered pocket on the back. This bag comes with a 100% satisfaction guarantee and lifetime warranty.
6. Itzy Ritzy Diaper Bag Tote
If you're looking for a fun bag, that will brighten up your day, this Diaper Bag by Itzy Ritzy is perfect for you! You simply have to love that flower pattern, right?! The bag is roomy and comes with a total of 25 pockets (18 internal, 7 external, incl. 2 insulated bottle pockets). The bag comes with stroller clips and a changing pad. It is made from vegan leather.
7. Designer Diaper Bag by MB Krauss
MB Krauss's Designer Diaper Bag falls into the category "I can't believe it's a diaper bag". Its sophisticated look makes it a real standout, but it also doesn't lack in terms of functionality. The bag is specifically designed to hold baby wipes, diapers and bottles. It is light and portable can comes with 10 pockets and a changing pad.
8. PacaPod Saunton Chalk Baby Diaper Bag
The PacaPod Saunton Chalk Baby Diaper Bag is made from codura style fabric with fine stripe detail. It's one of these bags, that stands out because of its simplicity and minimalist design. It combines classic style and modern edge. Features include a feeder pod, changing pod, changing mat and pram clips. The many pockets will help you stay organized.
9. Babymel Anya Vegan Leather Diaper Bag, Dusty Pink
Baby Mel's Anya Diaper Bag perfectly combines style and practicability. It is made from vegan leather with laser cut detailing on the front panel. It features many compartments, five internal pockets (one zipped), a bottle compartment and a changing pad. Cleaning of this bag is very easy, you can simply wipe any dirt off with a wet cloth.
10. Itzy Ritzi Triple Threat Vegan Diaper Bag
Itzy Ritzi's Triple Threat Vegan Diaper Bag is very roomy and has enough pockets to keep your and your baby's stuff organized on the road. It features 9 internal and 4 external pockets. This includes two insulated pockets for bottles. As the Triple Threat name suggest can be worn in three different ways: As a tote, backpack or messenger bag. The bag comes with stroller clips and rubber feet to keep the bottom clean.
11. Little Unicorn Brookside Tote Diaper Bag
Can you believe this is a diaper bag? Well, you better! Little Unicorn's Brookside Tote can carry everything you and your baby need, but also works well as a work bag, that fits your computer, iPad, phone, notebook and whatever else you need for a busy day at the office. It's a chic diaper bag, that is sure to earn you many compliments. It comes with a cushioned changing pad, matching stroller straps and 8 pockets.
12. Skip Hop Diaper Bag Tote
Skip Hop's Diaper Bag scored high in terms of functionality with its 3 large divided sections, 2 insulated side pockets, phone pocket and fleece-lined pocket for your shades. The bag features cotton tote straps, a vegan leather trim and hangs neatly on a stroller. If you're looking for a sporty, yet chic vegan diaper bag, this one's for you!
13. Rosie Pope's Addison Lane Diaper Bag
When high-fashion meets diaper bag functionality, Rosie Pope's Addison Lane Diaper Bag is the result. The bag is made from black nylon with golden hardware accents and braided shoulder straps. It comes with an insulated bottle cooler, silicone changing pad and stroller straps. Three large internal pockets and two large zippered external side pockets, help you stay organized.
14. Babymel "Grace" Diaper Bag
Babymel's "Grace" Diaper Bag is made from water resistant PU leather and felt. It comes with a machine washable changing pad and has a built in insulated bottle compartment. The long shoulder strap can be detached and the bag can be easily attached to a stroller thanks to its practical integrated stroller straps. Four internal and external pockets provide enough space for all the essentials you need.
15. Lily Miles Diaper Caddy
Technically Lily Miles Diaper Caddy is more of a "storage unit", than diaper bag, but we wanted to include it here, as it is a great bag to have, if you're looking to store some must-haves in the car. It has enough space for diapers, wipes, burp cloth, lotions, bibs, lotions, onesies, changing pads, breast pump and whatever else you could possible need on the road. It would also look great simply next to your changing table. This bag comes with a 100% satisfaction guarantee.
The 10 Best Vegan Diaper Backpacks
1. Petunia Pickle Bottom Method Diaper Backpack
Petunia Pickle Bottom's Method Diaper Backpack combined polished style and functionality. Its backpack straps are adjustable and the bag can be easily attached to your stroller. Features include a two-way top zip closure, two felt-lined exterior pockets and four slip pockets. The bag also comes with a washable changing pad, a PPB wipes case and a coin purse. This bag is made from PU vegan leather.
2. JuJuBe "Forever" Backpack Multi-Functional Vegan Leather Diaper Bag
JujuBe's "Forever" Diaper Backpack comes with 3 open pockets, 4 gusseted pockets and 1 changing pad pocket in the main compartment. There's also 2 bottle pockets with Thinsulate by 3M. The bag is made from vegan leather, the included changing pad is made with memory foam. The bag is lightweight, yet spacious and has a lifetime warranty.
3. Kaydee Baby Unisex Canvas Diaper Bag Backpack
You simply have to love Kaydee's sporty-chic diaper bag! With its modern look, t's just as stylish as it is practical. The main body is made from a high end canvas material, while the straps are made from vegan leather. This diaper backpack comes with a matching changing pad and stroller straps for extra convenience on the go. It has 11 pockets inside and out. This one's definitely a favorite!
4. Petunia Pickle Bottom Embossed Boxy Diaper Backpack
Petunia Picklebottom's Embossed Boxy Diaper Backpack is sure to make you one of the coolest mom's on the playground. It's made from quilted polyester, comes with an adjustable shoulder strap and top zip with flap closure. Features include a built-in changing station with removable changing pad, as well as many pockets (some zippered, two for bottles) on the inside and outside.
5. Citi Babies Faux Leather Diaper Bag Backpack
"I can't believe it's not leather" should be the tagline for Citi Babies Tan Faux Leather Diaper Backpack. Citi Babies is American-Mom-Owned and based in North Carolina. This diaper backpack comes with a stroller clip, changing pad and insulated bottle pockets. It's spacious, durable and its multiple pockets do a great job helping you stay organized.
6. Baby-on-the-Go Diaper Backpack by Huggleboo
Huggleboo's Baby-on-the-Go Diaper Backpack is made from waterproof canvas with vegan leather accents. It's unisex design makes this the perfect bag for both mom and dad. This backpack has 19 pockets (incl. 1 wipes pocket) and 4 insulated baby bottle holders. Included are also a changing pad and stroller straps. This diaper backpack comes with a 100% satisfaction guarantee.
7. Colorland Vegan Diaper Backpack
Nothing about Colorland's Vegan Diaper Backpack, Screams Diaper Bag. It is so stylish, that you'll sure get some questions and compliments from your parenting friends! This high-end faux leather backpack features golden zippers and is great for parents on-the-go. It's roomy and practical with its 9 pockets, that help you stay organized.
8. Ready Diaper Bag Backpack by RYLA
RYLA's Ready Diaper Backpack is made from 100% vegan leather. It comes with a changing pad and wet bag and is designed from daily use. Compared to others it is rather small, which is intentional in order to help you prioritize and end up with a lighter bag. This diaper backpack has 10 pockets (4 on the outside, 6 on the inside). It is low maintenance and easy to clean. This bag comes with a 100% happiness guarantee.
9. Skip Hop Greenwich Diaper Bag Backpack
Skip Hop's "Greenwich" Diaper Backpack helps you keep all your baby essentials organized. It has 9 pockets, a large zippered main compartment and a classic look. Straps are adjustable and a convenient strap allows you to easily attach the bag to your stroller. This diaper backpack comes with a changing pad.
10. Itzy Ritzy Mini Diaper Bag Backpack
The Itzy Mini Diaper Bag Backpack is as stylish as it is functional. This vegan leather mini backpack diaper bag is the perfect size for quick outings, when you only need the essentials. The diaper backpack has 4 pockets on the insider and 4 pockets on the outside. This includes 2 bottle pockets and an easily accessible "parent" pocket. This bag also comes with a changing pad
Ask the Experts: What Makes a Perfect Diaper Bag?
You know what they say about the littlest people requiring the most things? Never been truer. Which is why anytime you leave the house with a baby, you are expected to take multitude of supplies with you. It's just a must. From the diapers to baby wipes to pacifiers, snacks, feeding bottles, change of clothes, rash creams, bibs, burp cloths, you name it. They are just a lot. Not to mention your own stuff as a parent. In order to haul all these things, you need a bag to help you do so.
As discussed earlier, there are a whole lot of things that are to be put into consideration before purchasing a diaper bag, ranging from the fabric, the durability, the quality, high functionality, compartments, color, pattern, and of course the price.
While we hope our buying guide and selection of vegan diaper bags and backpacks has helped you get closer to a decision, we figured we'd let some more experts on the subject share their thoughts!
Should You Buy a Diaper Bag or Backpack?
Picking A Diaper Bag
Are you a vegan parent and love your diaper bag? Let other parents to-be know in the comments, which one you picked!